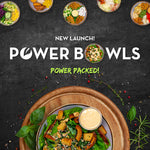 Power Bowls, the healthy choice?
We have some new additions to the menu that are going to completely bowl you over!
Introducing our range of raw vegan bowls that are packed with power, nutrition and taste (our nicoise bowl being the exception to the vegan base). We have sought inspiration from all corners of the globe, staying true to our promise of variety, restaurant quality food and fresh, local produce.
The Unclassic Cobb Bowl
Can I add these bowls to my Power Kitchen meal prep delivery? Of course, our bowls are the perfect on the go meal and also a great compliment to our selection of reheatable meals. Want more protein? You got it! Add tofu, egg, chicken or steak to any bowl to boost your protein intake for the day.
"Power Bowls" are trending as the healthy choice and we couldn't agree more! Who better to make a delicious range of power bowls other than Power Kitchen? We have curated delicious power bowl recipes loaded with super foods like raw veggies, greens, sprouts, nuts, beans and seeds.
The Hail Kale Caesar Bowl
Ah, but what about the dressing? All natural of course. Salad dressings are notorious for sneaking in extra calories with unhealthy additives. But fear not, our dressings are a blend of natural, raw ingredients. We have fresh tasting versions of beloved classics like vegan "caesar" dressing that are made in house weekly; You won't' find any pre-made, store bought dressings here!
Our Power Bowls are designed to energize your body, to alert your brain and your tastebuds. Gone are the days of lifeless, soggy salads – say hello to Power Kitchen Power Bowls!
Order Now: https://www.powerkitchen.ca/power-bowls/
The Nicoise Bowl