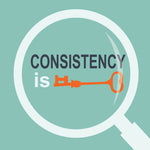 Are you trying your best to exercise and eat healthy but not seeing results? Are your efforts consistent?
Consistency is the key to better health but is also one of the biggest challenges. Following a nutrition and exercise plan on and off for a month won't lead to results; aiming for perfection will inevitably lead to failure. So how can you be realistic and consistent with your health and fitness journey?  Check out our 3 tips on how to stay consistent with diet and exercise below :
Find What Works For You
Power Kitchen believes that not one size fits all when it comes to diet and fitness. If you can't give up carbs completely, don't start the keto diet. If you hate the thought of CrossFit, don't agree to join with your CrossFit enthusiast friend. There are alternatives, in fact, there are so many options out there! Do your research to find a non-restricting eating plan and give those free trial fitness classes a go. Think of convenience here, if your meals and workouts are easily accessible, consistency is easier to maintain. You will be more willing to workout when your gym is close to home or work. When your meals are conveniently waiting in your fridge to be reheated, eating healthy won't feel so intimidating. A healthy diet and workout shouldn't feel like an agonizing sacrifice, decide on what fits into your lifestyle and don't try to fit into someone else's.
Plan, Plan, Plan
Planning your meals and workouts in advance will make you more likely to follow through with them. It will be less daunting to stick to your workouts when you know what you're doing and when. Add your workouts into you calendar and make them an important, enjoyable part of your day! It's also easier to eat clean when you know what you're having for each meal in advance. Does your lifestyle not allow much time for meal prepping? Or are you just not too skilled in the cooking department? Outsource your food, it'll save you time and you'll get delicious meals without the work in the kitchen. Toronto's Power Kitchen meal prep delivery has healthy, macro controlled meals that can be delivered right to your doorstep. With meal boxes to suit many diets, delicious food is only a click away.
If all doesn't go to plan, don't get worked up. There should still be room for spontaneity and last minute social plans. Don't be so strict that you upset other areas in your life and always be forgiving when things don't go the way you planned.
Be Realistic and Don't Forget to Live!
You've done all the hard work and created healthy, consistent habits. Clean eating and workouts that were once challenging have become routine. Fantastic! However, consistency doesn't suggest that you eat only clean meals and workout nonstop. Take breaks, have cheat days and be realistic. Your life is meant to be lived and not restricted by your new, healthy way of living. If health and fitness are a constant in your life, you can still enjoy life's pleasures and not feel guilty about it.
The 80/20 principle is a great approach to achieve consistency and balance. By following your diet and fitness plan 80% of the time, you won't feel guilty when you rest and treat yourself over the remaining 20%.
Consistency is undoubtedly important when it comes to getting those long term results. Remember, start at your own pace and commit only to health and fitness goals that are sustainable!