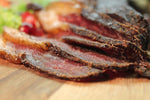 At Power Kitchen, we pride ourselves on making eating healthy easy. Our meal prep delivery service makes it easy to maintain your diet even for specific diets like Keto and Paleo, but it's not always easy to maintain your diet especially for those with a sweet tooth.
Power kitchen has begun to roll out a suite of tasty healthy snacks like our peanut butter protein balls and our coconut protein balls, we have more exciting snacks on the way but for those who can't help but do a little snacking check out this list for 10 healthy snacks to satisfy your sweet or salty cravings.
Mixed Nuts
For those on the Keto diet, some mixed nuts are the perfect snack. They have a great mix of healthy fats, protein, and fiber which is perfect for losing weight. For those not on the Keto diet, some mixed nuts are still a great snack but eat in moderation as they do have a high-fat content.
To make a sweeter treat try a trail mix with some mixed in fruit or grab some nuts covered in Dark Chocolate.
Kale Chips
Kale is a super food great for providing you with fiber and antioxidants which will decrease blood pressure and can help reduce the risk of colon cancer. Some lightly salted Kale Chips are a great healthy snack that you can eat every day without feeling guilty.
Fruit
Snacking does not have to be complicated while eating a massive amount of fruit includes a lot of natural sugars a little fruit daily offers great nutritional value. We have all heard "an apple a day keeps the doctor away" apples, grapes, oranges etc all make for great healthy snacks. If you're worried about your potassium levels then work in a few bananas into your weekly diet.
Chia Seed Pudding
Alone Chia seeds can be bland but when soaked in liquid they can improve the consistency of your pudding. Not to mention this Keto and Vegan-friendly snack is full of antioxidants to improve heart health. Mix with a tablespoon of peanut butter and cocoa, add water and your good to go! You can add in some sweetener to improve the taste of your pudding or add in some protein powder for a protein heavy snack to hit assist in hitting your macro goals.
Beef Jerky or Beef Sticks
Some extra beef is the perfect snack to get more protein into your diet without adding many carbs or fats. Careful as some store bought jerky can be full of preservatives and sugars but find some natural grass fed jerky and this healthy snack will be perfect to meet your savory craving. In addition grass, fed beef is a terrific source of omega-3 fatty acids great for your body and brain.
Avocado
This Keto classic can also be a perfect snack on any diet. Avocados are proven to lower cholesterol, reduce arthritis and protect skin from sun damage. While high in fat Avocados are great in moderation as the fats from avocado are primarily healthy monounsaturated fats.
Edamame Beans
There are tons of benefits to eating a cup of edamame beans.  Not only is edamame a terrific source of protein with about 17 grams of protein per cup but these beans are also full of the antioxidant kaempferol, which has been proven to assist in weight loss and lower blood pressure.
Smoothies
No need to go to booster juice next time you're craving a smoothie. There are tons of healthy smoothies you can make from your home. Smoothies can be an easy way to satisfy your sweet tooth and with tons of options to choose from you won't get bored.
My recommendation for a basic smoothie try combining some frozen fruit (I like strawberries and bananas), a tablespoon of peanut butter, a scoop of vanilla or chocolate protein powder, and a cup of water or low-fat milk (almond or skim milk works well). Try your own experiments with ingredients like chia seeds, berries, or honey to change up the flavor.
Low Fat Yogurt
Some low-fat yogurt is a great snack chalk full of calcium to help promote bone and teeth health. If you find traditional yogurt to be bland try mixing in a scoop of Nutella and/or peanut butter to enhance the flavor. For those eating Keto go with full-fat yogurt instead. Full fat yogurt will help to get your daily dose of healthy fats and has less carb content than the reduced fat yogurts I would recommend for other diets.
Coffee
Fear, not coffeeholics coffee is actually very healthy and some recommend drinking multiple cups a day. A recent study has shown those who drink 4 cups of coffee have a 64% lower risk of death. This reduction is even greater for those aged 45+ so no matter your age don't be afraid of a morning cup of joe. Coffee can reduce the risk of liver diseases, cholesterol cancer, and type 2 diabetes. Not to mention caffeine is a terrific natural fat burner which can help in your weight loss goals.