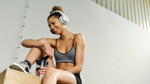 For some, working out feels effortless but for most, it's definitely not a piece of cake. If working out seems daunting to you, here are a few tips & tricks that'll get you moving!

1. The More, the Merrier!
Fun times are meant to be shared; why not invite a friend or two to your workout sesh? We assure you that great fun and good laughs will be part of the game! Not only will you guys be turning sweat time into sweet time, you'll also get to help, motivate and celebrate one another along your fitness journey. Most importantly, working out with a friend allows you to spend quality time with someone dear to you; it's great for the body, the soul, and the mood!

2. Get Pumped Up to Your Favourite Tunes
Avoid getting bored while jogging, doing your gym routine or rope jumping by listening to some cheerful music! For an optimal effect, we recommend that you take the time to curate the perfect playlist with your favourite upbeat songs and all the tunes that fire you up the most! Believe us; as Kanye West's Stronger is blowing your headphones up, you'll crush those few extra reps!

3. Down for a Treat?
After a grueling workout, you most definitely deserve a treat! Whether it's a delicious latte, a refreshing smoothie, or perhaps a well-deserved bubble bath; as long as you make a habit of rewarding yourself, you're set up for success! After all, all your efforts ought to be celebrated! Power Kitchen offers protein-packed snacks that make for the perfect treat to recharge after an intense gym sesh.
4. Sportswear and Sports Gear for Motivation
While we're on the topic of treats, nothing beats rewarding yourself with a brand new workout outfit that you won't be able to wait to rock at the gym! Occasionally splurging on some new sportswear or sports gear that you'll be dying to try out is a very valid and efficient incentive to get you moving. Here's the perfect excuse to finally get that pair or sneakers you've been eyeing for a while!

5. Switching Things Up Goes a Long Way
The key to making sure working out doesn't become a chore: switching things up and getting out of your comfort zone! Trying out new sports, frequently adjusting your routine at the gym and practising several different physical activities during the week are the best ways to ensure you'll never get bored with your workouts. Transform each sesh into an adventure and you'll stay motivated, that's for sure!
We hope you found these Tips & Tricks helpful. Remember, the best way to make any workout more enjoyable is to find what works best for you and stick with it!

Do you have any Tips & Tricks to make workouts more enjoyable? Share them with us in the comments below! Thanks for reading :)