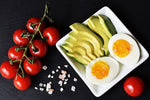 Power Kitchen's Keto Meal Prep is one of our most popular meal plans but it is also probably the plan we receive the most questions about. The Ketogenic diet continues to grow in popularity as many have found it an extremely effective way to burn fat. Based on fitness goals many diets will recommend getting calories from 15% – 30% fat, 35% – 45% carbs, and 30% – 50% Protein. This is similar to the way Power Kitchen designs our clean eating meal prep.

The Keto diet completely changes the macros which typically go into losing weight. By almost completely cutting carbs, lowering protein intake and instead replacing these lost macros with high-fat substitutes you will actually lose weight by putting your body into Ketosis.
What is Ketosis
Ketosis Is a natural metabolic state where your body runs out of carbs and instead turns to fat for energy.  On a traditional diet, your body will not typically enter a ketosis state as your body will have carbs to draw from when it needs energy. On a Keto diet, you eat an extremely small amount of carbs, typically under 30 grams/day. By doing this your body will be turning to fat on a regular basis for energy.
How Long Does it Take to Get Into Ketosis
The old saying of "your body is not a machine" really comes into play here. While many people find their body enters a state of Ketosis after just 2 days some find it can take up to 2 weeks for your body to truly enter ketosis. This means if you think you put on weight after your first week, do not get discouraged as your body will soon start to adapt.
What Foods Can You Eat on the Keto Diet
On the Keto diet, you are looking to find healthy fats like nuts, cheeses, and avocado and to avoid any food with a high carb count.
All of this can get confusing – Power Kitchen has a Keto Meal Prep available to help you out!
Fats and Oils
Remember we are looking for healthy fats. Foods with high saturated and monounsaturated are great, polyunsaturated from animals are great for you but avoid polyunsaturated from processed foods. Trans fats should also be avoided!
This is really where those used to dieting can feel weird about Keto. you might want to do things like cook with butter or lard. While typically oil is avoided on diets you can drizzle your meat with olive or avocado oil.
Good Fats and Oils for the Keto Diet
Lard

Oil

Egg Yolks

Butter

Olive Oil

Cocoa Butter

Coconut Oil

Avocado Oil

MCT Oil

Flaxseed oil

Walnut oil
Bad Fats and Oils for the Keto Diet
Corn oil

Canola Oil

Soybean Oil

Grapeseed Oil

Sunflower Oil

Peanut Oil

Sesame Oil
Keto Proteins
Check the macros before purchasing but most proteins do not contain carbs, do be careful as the keto diet is also low protein
Good Proteins for the Keto Diet
Ground Beef

Ground Lamb

Bacon

Pork Chop

Eggs

Chicken Thigh

fatty fish
Proteins to avoid on the Keto Diet
Protein selection is an easy task when eating Keto as there are few protein that contain carbs. The most important thing is to see where your protein comes from.
Grain-fed meats

Processed meats (like hot dogs)

Factory farmed meats and fish
Keto Vegetables and Fruit
FrThe keto thought on fruits and vegetables steers away from the traditional nutrition that we all know. While many fruits and vegetables are keto friendly a lot (fruits especially) are high in sugar and thus have a fairly high carb content which needs to be avoided on Keto.
Worth noting that even keto friendly fruits and vegetables do not have much fat and should be eaten in addition to your high-fat substitutes.
Good Fruits and Vegetables to Eat Include
Avocado

Cabbage

Cauliflower

Broccoli

Mushrooms

Spinach

Bok Choi

Green Beans

Kale

Blackberries

Raspberries
Fruits and Vegetables to avoid on Keto
Below are some of the fruits and vegetables to avoid, as a general rule with a few exceptions, most fruit should be avoided.
Bananas

Pineapples

Apples

Mango

Grapes

Citrus Fruits

Juices

Sweet Potato

Tomato

Carrots

Corn

Parsnips
Keto Dairy Products
Dairy products are used quite heavily on the keto diet as a way of eating healthy fats. Be careful as some highly processed dairy products can be higher in carbs
Good Dairy Products to Eat on the Keto Diet
Greek Yogurt(full fat)

Mayonnaise

Cottage cheese

Cream cheese

Cheddar cheese

Parmesan cheese

Mozzarella cheese

Feta cheese

Swiss Cheese

Heavy whipping cream

Brie
Dairy Products to Avoid on The Keto Diet
Milk (some whole milk can be alright)

Skim milk

Any "low fat" cheese

Any "low fat" yogurt

Shredded cheese (check label can be alright if it doesn't contain potato starch)
Keto Nuts and Seeds
Nuts are good snack or flavouring for meals on the Keto diet. They are high in fat and protein so can help to achieve macro goals. You can even eat them with dark chocolate which is also Keto friendly
Good Nuts and Seeds to Eat on the Keto Diet
Almonds

Brazil nuts

Cashews

Coconut

Macadamias

Hazelnuts

Sesame seeds

Sunflower seeds (hulled)

Pumpkin seeds (hulled)

Pistachios

Walnuts
Nuts and Seeds to avoid on the Keto Diet
Peanuts (technically Legumes)
Keto Beverages
Classic H20 is always going to be the best but there are a handful of drinks which are Keto friendly
Good Beverages to Eat on the Keto Diet
Water

Black Coffee

Green Tea

Black Tea

Diet Soda (drink sparingly)

Coconut Milk

Almond Milk

Broth

Club Soda
Beverages to avoid on the Keto Diet
Keto Alcohol
While it is best to simply not drink alcohol that's not always realistic. If you are going out for a drink try to stick to the options below
Alcohol to Drink on Keto Diet
Light Beer

Bourbon

Champagne

Gin

Rum

Scotch

Vodka

Dry Wines
Alcohols to Avoid on Keto Diet
Beers

Sweet Wines

Cocktails

Flavoured Liquors

Mixers