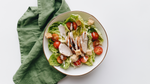 Ahhh summer…the sun, the fun, and all that delicious fresh produce! With so many varieties of fruits and vegetables coming into season, it's easy to make delicious, healthy dishes - like salads. The beauty of a salad is you can enjoy them for lunch or dinner and they're packed full of flavour without being heavy, making them the perfect light meal option in the summer heat. If you're looking for some light meal ideas look no further than these 5 refreshing summer salads!

Not only are they incredibly easy to make, but they are also jam-packed with all the nutrients you need to give your body a healthy boost. From vibrant greens and succulent fruits to mouth-watering grilled veggies and chicken, the possibilities are endless when it comes to creating a delicious summer salad. Whether you're looking for a quick lunch option or the perfect addition to your picnic basket, you can never go wrong with a tasty and satisfying summer salad. So why not give it a try today and see how it can brighten up your day?
Mediterranean Caprese Salad – A Delicious Twist to an Old Classic
We all love a classic Caprese salad: fresh mozzarella, juicy tomatoes, and fragrant basil leaves. But have you ever thought about mixing things up a bit? That's where the Mediterranean Caprese comes in. With the addition of tangy kalamata olives, zesty lemon juice, and a drizzle of balsamic glaze, this salad takes things to a whole new level. The creamy cheese pairs perfectly with the sharp olives, while the citrusy dressing adds a zingy twist. Whether you're enjoying it as a light lunch, or serving it up as a side at your next barbecue, the Mediterranean Caprese is a delicious way to shake up your usual salad routine.
Quinoa Kale and Cranberry Salad – Best for Vegetarians
Are you a vegetarian on the hunt for a delicious and nutritious meal? Look no further than the quinoa kale and cranberry salad! Packed with protein from quinoa and a healthy dose of vitamins from kale, this salad is sure to leave you feeling satisfied. Plus, the addition of sweet and tart cranberries adds a burst of flavor that will have your taste buds dancing. Whether you're looking for a quick lunch or a refreshing dinner option, this salad is a fantastic choice for any vegetarian.
Poached Egg and Avocado Salad – For a Healthy Protein Boost
Looking for a healthy protein boost that won't leave you feeling weighed down and sluggish? Look no further than this delicious poached egg and avocado salad! Packed with all the nutrients you need to power through your day, this tasty dish is the perfect way to start your morning off right. With creamy avocado, savory poached eggs, and plenty of fresh greens, it's a meal that's as satisfying as it is good for you.
Mexican Black Bean Salad – Spicy and Tangy!
This dish is bursting with spicy and tangy flavors that are sure to wake up your taste buds. With black beans as the hearty base, this salad is loaded with fresh veggies like bell peppers, red onions, and cherry tomatoes. And don't forget the zippy lime dressing that ties it all together! Whether you're meal prepping for the week or looking for a side dish that will steal the show, this Mexican Black Bean Salad is the way to go. So grab a fork and get ready to spice things up!
Fruits & Nuts Salad – Sweet and Refreshing!
Whether you're looking for a mid-afternoon pick-me-up or a light lunch on a hot summer day, this tasty treat is the perfect choice. Packed with colorful berries, juicy watermelon, and crunchy nuts, this salad bursts with flavor and nutrients. And the best part? You can customize it to your liking, using your favorite fruits and nuts to create a dish that truly satisfies you.
Eating light foods in the summer is important to withstand the hot days. But don't forget that having a balanced diet is important at any time of the year. Healthy eating is one of the best ways to ensure quality of life because it makes our body work properly and also helps prevent disease.

Here at Power Kitchen, we offer balanced meal plans, rich in proteins, fats, carbohydrates, fibers, vitamins, water, and mineral salts. These items are essential for all people who intend to have a better life. The diversity of grains, greens, vegetables, and fruits must be part of our menu.

Summer salads are a light, nutritious and delicious way to cool down during the hottest days of the year. But don't forget to choose your meal plan! ;)