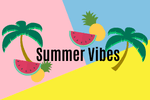 Summer is in full swing! Time to whip out the BBQ, enjoy drinks on a patio and relax by the lake. Enter temptation; eating out A LOT, "forgetting" about your meal plan and avoiding workouts.
But don't worry, we got you. Here are 4 tips for enjoying a healthy summer (what's left of it).
Hydrate!
Your body can easily become dehydrated when you're spending time in the sun. Remind yourself to drink water whether you're thirsty or not. If you're bored of drinking water, choose a healthy alternative like coconut water or green tea. Not only is dehydration harmful for your body, it can set off cravings for food when you're not even hungry!
Eat A Balanced Diet
Spend as much time as you can outside! However, eating out and indulging at the nearest restaurant can be easy to fall into, so be prepared. Prep some healthy summer snacks to keep in your cooler and stock your fridge with ready to go meals. 
Toronto's top rated meal prep delivery is here to make summer convenient, healthy and full of taste. How can you make your summer even more enjoyable? Having your fridge stocked with Power Kitchen meals. Fill your picnic cooler with PK meals or enjoy them at home after a day of fun! You'll save time in the kitchen and spend time on what matters most. Check out our meal plans!
Take Up A New Hobby 
The sun is here, come out and play! There are so many outdoor activities to take advantage of. Green thumb anyone? Those flowers won't plant themselves. If gardening isn't your thing, why not join a sports team for the summer? If you find a sport that's right for you, you'll be having so much fun that you won't even notice how much exercise you're getting.
Stay Active
When summer comes around, the dark interior of the gym just doesn't seem that appealing. Don't let all of your hard work to go to waste! Get creative with your workouts, take it outside or take up a new activity. Make small adjustments to keep your fitness up throughout summer. Your lifestyle will change, allow for your fitness routine to adjust too. Oh and……make sure to have fun!