READY-TO-EAT MEALZ
Fresh & never frozen
8 WEEK ROTATING MENU
+150 delicious options
NO COMMITMENT
Skip, cancel or pause at any time
READY-TO-EAT MEALZ
Fresh & never frozen
8 WEEK ROTATING MENU
+150 delicious options
NO COMMITMENT
Skip, cancel or pause at any time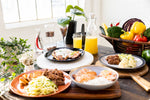 HAVE YOU MET POWER KITCHEN?
Each person has their own fitness goals and motivation. Some prefer exercising by themselves, others prefer having a personal trainer along the journey. But one thing is certain: those seeking a healthier lifestyle know that it includes a balanced and nutritious diet. At Power Kitchen, we know that keeping a balanced diet can be overwhelming and finding the perfect meal plan can be frustrating. That's why we offer 8 different meal plans to meet every taste, fitness goal, and dietary needs.
+500 MEAL OPTIONS FOR ALL TASTES AND FITNESS GOALS
Power Kitchen is Toronto's top healthy meal delivery service. We serve more than 500 customers who are health-conscious, eco-conscious and know great food. They look for the best meal delivery Toronto has to offer and with us, they get a rotating menu with over 100 options per week, top-class customer service, biodegradable packaging, and a seamless delivery process.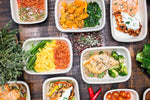 Which plan is right for you
Save 5% on Subscription Plan

Avg. Calories per meal

Medium

Save 5% on Subscription Plan

Avg. Calories per meal

Low

Save 5% on Subscription Plan

Avg. Calories per meal

Medium

Save 5% on Subscription Plan

Avg. Calories per meal

High

Save 5% on Subscription Plan

Avg. Calories per meal

High

Save 5% on Subscription Plan

Avg. Calories per meal

High

Save 5% on Subscription Plan

Avg. Calories per meal

Medium
Which plan is right for you
Save 5% on Subscription Plan
Save 5% on Subscription Plan

Avg. Calories per meal

Medium

Save 5% on Subscription Plan

Avg. Calories per meal

Low

Save 5% on Subscription Plan

Avg. Calories per meal

Medium

Save 5% on Subscription Plan

Avg. Calories per meal

High

Save 5% on Subscription Plan

Avg. Calories per meal

High

Save 5% on Subscription Plan

Avg. Calories per meal

High

Save 5% on Subscription Plan

Avg. Calories per meal

Medium
Frequently Asked Questions